Why We Do It
Buying kit according to what customer demand pulls onto the gym floor releases huge efficiencies enabling operators to provide a better service whilst at the same time spending less on equipment.
Which means ...
Huge savings
Operators stop buying equipment that there is not a customer pull for.
This makes no difference to customers as they won't miss what they don't use, but it'll make for a huge reduction in operator's costs.
Happier customers
Customers pull enough of the equipment that they want onto the gym floors to remove equipment bottlenecks.
Removing wait times for kit makes customers a lot happier.
Retention improves and they bring friends to the gyms leading a top ling growth.

Answering the questions
Overall Capacity
Q:
What determines the amount of gym equipment you have on the gym floor?
A:
How big the gym floor is.
How much kit was there before the refurb.
The Overall Capacity Solution should be based on what the customer demand levels pulls onto the gym floor and the following considerations
Does the gym have an evidence based case to expand?
Or does it have enough, or more than enough equipment?
'Sweat the assets' by moving equipment between gyms with different capacity issues.

Equipment Quantities
Q:
What determines the types and quantities of kit on the gym floor?
A:
Suppliers advice.
What my Gut tells me after 20 years experience.
What my instructors advised.
In over 400 studies GYMetrix has done
exactly 0% of operators managed to get their kit mix matching customer demand
. To get it right, we find out:
Where can the gym solve equipment shortages and bottlenecks? This create happier customers resulting in membership growth.
Where is there excess, or unpopular equipment? This creates significant savings if not replaced in a refurb, but makes little difference to customers.

Equipment Layout
Q:
What determines how your gym equipment is laid out on the floor?
A:
The drawings that were supplied by the equipment manufacturers.
Through the use of heatmaps
GYMetrix can identify flaws in the layout of equipment
and how to maximise the use of space.
Using the heatmaps allows us to identify where the layout of the equipment could be improved to maximise its usage as well as the customer experience.
It also lets us look at 'view lines of site', equipment crowding, prominence and the best place for AV locations.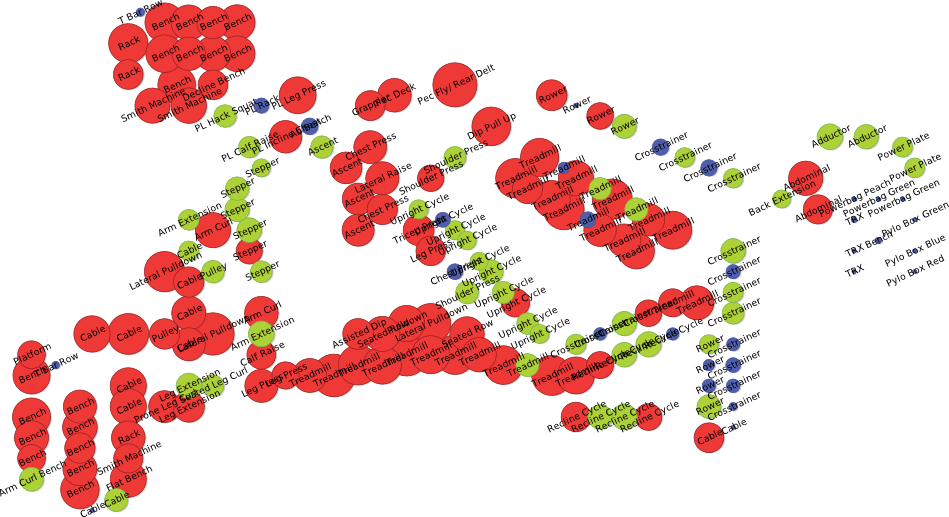 Staff Inductions
Q:
How do you introduce new equipment onto the gym floor?
A:
We put it on the gym floor, put the staff on a training course and hope they teach customers how to use it
By measuring the kit after it has been installed it is possible to measure and therefore manage how effective the staff are at getting the new equipment to add value to customers. This allows us to:
Find out where induction programs can help educate customers about equipment to maximise: their experience, increase interactions, and get the most out of existing investment in equipment.
Manage the important role staff have in introducing new bits of equipment by measuring customers' usage of it.

What is the process of a GYMetrix Study?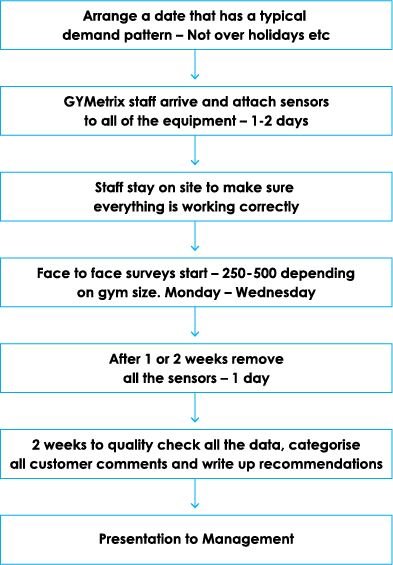 What you get
Online access to system and full printed analysis.
In person presentation of the results approx. 1 – 1.5hrs.
Methodology utilises 'Lean Thinking'.
Output
Overall Capacity Situation of Gym
Where there are shortages causing customers frustration and kit required to solve these.
Where there is excess kit that is underutilised and where costs could be reduced.
Where there are gym layout flaws preventing optimisation
Where instructors could intervene to get customers using the equipment more. . . or less.